Description
UN « LONGBOARD » PUR BONHEUR, D'INSPIRATION SURF, POUR S'AMUSER DERRIERE UN BATEAU ET BIEN PLUS ENCORE
Il s'agit d'une board d'inspiration surf pour rider tranquille derrière un bateau puis disposée à accélérer à fond… autrement dit, accrochez vos orteils !
Explorez le sweet spot de la vague pour vous sentir aussi grand que l'océan…
Les contours doux et équilibrés et la ligne de rocker de la Manna Tee ont été conçus pour être un parfait mélange entre vitesse, stabilité et loose ce qui vous permettra à la fois de fendre les vagues dans un style classique, de carver, comme avec une short board, de couper les vagues et de réaliser des aérials de façon agressive.
Le tail dure vous apporte un contrôle et une puissance là où vous en avez besoin.
Le rail d'entrée doux, sans accroc et facile à manier ainsi que le nose légèrement relevé s'adaptent parfaitement aux transitions serrées rendant ainsi la difficulté bien plus aisée et transformant l'impossible en possible.
Manna Tee signifie bonheur en Canadien.
*FINS INCLUDED
Quad Wakesurf Fin Set
Two single foil lead fins – 4 1/4″
Two double foiled « nubb » trailing fins – 1 5/8″
Board Specs
| Length | Width | Thickness | Volume | Weight Range |
| --- | --- | --- | --- | --- |
| 5'0" | 20.0″ | 2.1″ | 24.9 cl | 120-200 lbs |
| 5'4" | 20.5″ | 2.2″ | 29.3 cl | 160+ lbs |
TECHNOLOGICALLY TOUGHER – environMENTALLY NICER!
Lib Tech is dedicated to board riding and hands on high tech board building. We have spent a lifetime of surfing, shaping and working with alternative, high performance, environmentally friendly materials and constructions. Traditional surfboard construction has always felt too fragile and the build process is toxic and unhealthy for the planet and craftspeople. We know there had to be a way…
Mike Olson and our experiMENTAL division applied our 35+ years of hands on board building experience to the task of building a better surfboard. In the process we completely rewrote the book on surfboard construction. Every component we use in our ecoIMPACTO surf construction is completely new to the surf industry. Our Thermo fusion process radically minimizes resin exposure and sanding while creating amazingly durable, environmentally friendly, high performance surf structures that will free your mind and lift your surfing to new heights.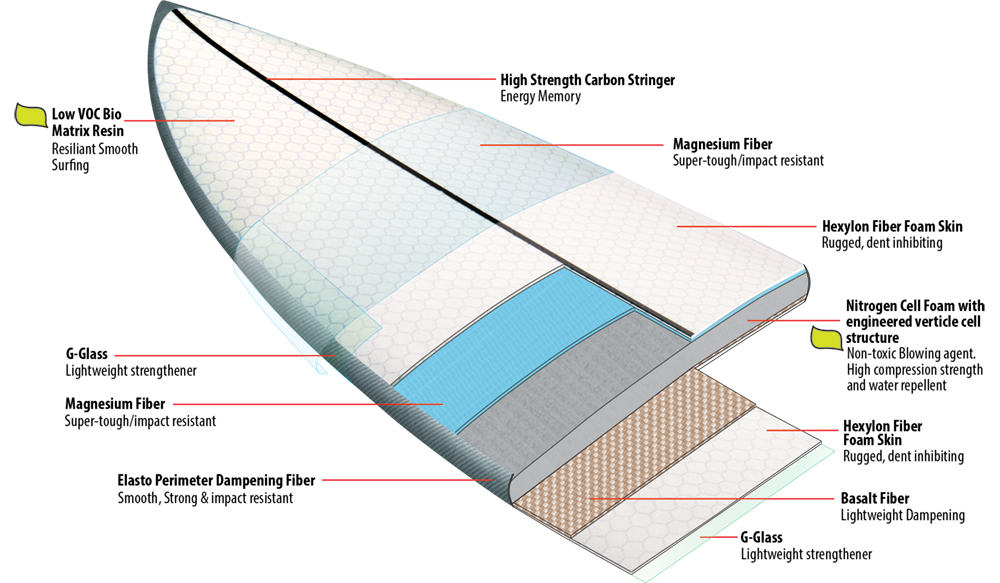 The ecoIMPACTO Ride « High Performance Life Extension »
A smooth responsive and high performance ride with the feel of a crispy new polyester that lasts and lasts.

LESS WORRY… MORE FUN
THE ULTIMATE TRAVEL BOARD
WONT ABSORB WATER IF YOU DO GET A DING
REPAIRS WITH EPOXY

ECO FRIENDLY MATERIALS AND PROCESS
ELIMINATION OF INDUSTRY-STANDARD RESIN EXPOSURE PROCEDURES
ELIMINATION OF INDUSTRY-STANDARD SANDING PROCEDURES
ELIMINATION OF INDUSTRY-STANDARD PAINT BRUSHES, TAPE, AND SOLVENTS
LOW VOC PLANT BASED BIO RESIN
RECYCLED FOAM OFFCUTS
LONG LASTING CONSTRUCTION
NEW! FOC II FIN BOX SYSTEM

FCS II compatible!
Two Tab compatible with 1/2" fin adjustability for precise tuning of your boards surf characteristics
Stronger and lighter box
MAGNESIUM FIBER

Tough & Resilient!
High impact and break strength fiber
Great rebound / memory
BASALT FIBER

Smooth & Strong!
Pure additive-free mineral fiber
Natural dampening properties
Break and impact resistant
CARBON POWER SPINE STRINGER

Dynamic energy & long lasting flex
Tension spread to carbon fiber
Rebound energy return
Perfect flex tuning
NITROGENECELL FOAM

Strong, Light, Waterproof
Environmentally friendly nitrogen blowing agent
Elliptical engineered cells act like a column providing stiffness from top to bottom and "nerf-like" elasticity in side impact
Recycled: 25-40% recycled content, 100% of off cuts recycled
HEXZYLON FIBER FOAM SKIN

Strong & Smooth!
Smooth riding vibration absorption layer
Impact and ding resistant
BIO-MATRIX RESIN

Strong & Nice!
Low VOC glycerin based chemistry
Surfs smooth like a new polyester board
Longer lifespan than epoxy
ELASTO PERIMETER DAMPENING FIBER

Smooth & Strong!
Flex control, pop, precision
Impact resistant
SPROCK BLOCKS

Crush & dent resistant!
Strong
Poppy
New carbon red (*Funnelator)